I went to the International Comic Con in San Diego this weekend for the third time.  In 2009 and 2010, I actually got tickets to go to the event at the San Diego Convention Center!  This year, I learned about the FREE off site events open to the public.  The last few years, I've been out of town, but this year there was no way I was going to miss it.  On day 1, I went to the Petco Park Interactive Zone. It was packed!  I got free Pizza Hut pizza at the Teenage Mutant Ninja Turtles booth and picked up some cool swag from the discovery channel, the BoxTrolls movie, the Amazon Geek Boutique, Alienware, Sin City, and other vendors! Check out the Day 1 pictures. On Day 2, I stopped by the interactive zone again to get a poster signed by Jessica Alba, Rosario Dawson, Josh Grodin, and the director of Sin City, Robert Rodriguez – I was hoping to go to the Game of Thrones interactive experience, but the line wrapped around a city block!  I'm a big fan of the show, but I was not going to wait 4 hours in a line by myself!  Instead, I decided to do some people watching down town.  I was not disappointed.  Check out Day 2 pictures. All the "characters" come out at Comic Con!  Comic-Con weekend is like Halloween, where people get dressed up and parade around as their favorite pop culture character but over a span 3 days.  There are a lot of really impressive costumes there! Some people go all out with elaborate costumes.  In downtown, San Diego bars and clubs would throw pop culture themed parties.  Pretty cool, but I've out grown the party scene.
As a latch-key kid from the 80s, I was really into watching movies on the VCR every day over summer vacation.  The original Star Wars trilogy, Rocky movies, Indiana Jones series, Star Trek movies, Schwarzenegger movies (Conan the Barbarian/Commando/Predator), etc were always on the TV.  Our dad used to bring home movie rentals from Meijer for my brother and I every week over the summer.  We watched A TON of movies every summer but going to the theater was always the funnest!  I always loved going to the movies.  It was so funny watching my dad cheer in the theater at the end of Karate Kid and at the end of Return of the Jedi when the Millennium Falcon escapes the exploding Death Star.  HAHAHA!  Pop culture has always been an interest of mine so Comic Con was an added bonus of moving to San Diego!  Comic Con is essentially a "pop culture" convention which evolved from a comic book convention.   I remember going to my first comic book convention in Michigan in the mid 90s.  I loaded up on classic Transformers and The Amazing Spiderman comics.  As a kid, I remember my parents let me get a comic book mail subscription I've always been drawn to stories where the outcasts were the heroes.  Hey, it got me interested in reading!  In Spideman, Peter Parker was a social out-cast/nerd, the Autobots were never fully accepted by humans because they were aliens.  I really related to both stories because  I've always felt like an outsider.  I realize now that EVERYONE feels like an outsider at some point!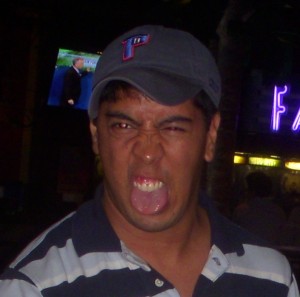 Growing up in Midwest there were few people similar to me so I always felt like I stuck out.  I was always one of the smallest kids at school (so I got picked on a lot), one of the few Filipino/APIA (Asian Pacific Islander Americans) kids in my school, and I was the shy/quiet one because I always felt different.  I was good at sports so I never felt lonely and I always had friends with similar interests.  I was constantly trying to fit in.  I am still close with many of my friends from elementary school and high school.  It was through sports that I made most of my friends. Athletics defined me growing up and continued through college, grad school, and the early portion of my professional years.  In college I finally discovered people ethnically similar to me.  It helped me to come out of my shell and feel comfortable in my own skin.  Sticking out was always "social suicide" as an adolescent!  After college, I learned that how you react to standing out/being different can determine success.  I learned that essentially, "Everyone is unique."  You can try to hide it or learn to embrace it.  I'm proud to be different.  The tough part is figuring out how to use your "geekiness/uniqueness" to your advantage.  Geekiness is engrained in me.  I have become comfortable with it!  Most of my insecurities were removed along with my brain tumor!
This week, I'm heading to Michigan for our Annual Paintball Benefit! Â Always a fun time! Â Looking forward to reconnecting with old friends! Â Stay tuned!