05 Mar 2007 03:56 pm
The TUMORS SUCK and Rock Da Hawk Logos
JOIN THE TUMORS SUCK MOVEMENT!
*Click on the TUMORS SUCK LOGO to get a printable version of the logo.
Let the world know that you think ALL TUMORS SUCK! The movement started in 2007 as a way for young brain tumor survivors to express their irreverent disdain for brain tumors. Soon the loved ones of the survivors adopted this "pugilistic attitude." Other survivors of different types of cancer adopted the same attitude towards their own diagnoses. EVERYONE WITH CANCER HAS SOME FORM OF A TUMOR, BUT NOT EVERYONE WITH A TUMOR HAS CANCER. The TUMORS SUCK! logo UNITES all those affected by a tumor mass.
All proceeds go to mAss Kickers Foundation.
*GROUP PICTURES ENCOURAGED!
OR
*GROUP PICTURES ENCOURAGED!
OR
3) TAKE A PICTURE WITH A STICKER. Stickers of the logo will be available at select events.
My talented friend, Susie Ghahremani designed the original TUMORS SUCK logo. The current logo was designed by my good friend Dai Tran.
IF YOU GET A STICKER, Put the stickers on
Your backpack
Purse/ Man bag (I will never own one!)
Briefcase
Suit case
Laptop
iPod
Your favorite book you take everywhere,
Your clipboard or trapper keeper if you still own one!
Even on the back of an unsuspecting friend before you go out.
Restart your sticker collection from when you were little… just make sure you show-off your sticker collection to everyone! ha ha ha!
TAKE A PICTURE WITH THE TUMORS SUCK STICKER!
POST YOUR PICTURES ON THE WALL OF THE TUMORS SUCK FAN PAGE! https://www.facebook.com/pages/Tumors-Suck/145877928814836
*GROUP PICTURES ENCOURAGED!
Please help US spread awareness about the plight of newly diagnosed tumor/cancer patients AND their loved ones by showing off the tumor suck logo! SURVIVORSHIP NEEDS A LITTLE ATTITUDE! WE ARE ALL IN THIS TOGETHER!!!

IF YOU THINK TUMORS SUCK! JOIN THE MOVEMENT!
ROCK DA HAWK TO SHOW YOUR SUPPORT FOR SOMEONE BATTLING A TUMOR/CANCER!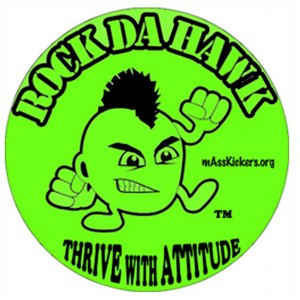 Rock Da Hawk is a support campaign of mAss Kickers Foundation