Speaking at Indiana University – Purdue University in Indianapolis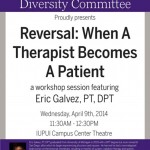 Last week I had the opportunity to speak at the School of Health and Rehabilitation Sciences at Indiana University – Purdue University in Indianapolis.  I got to reconnect with the former Dean at the School of Health Professions and Studies at the University of Michigan – Flint .  He was instrumental in getting me to speak at IUPUI.  10 years ago, when I was a student at the Physical Therapy School at the University of Michigan – Flint, Dean Austin Agho was very involved with students so I had numerous opportunities to meet with him and the faculty as a student.  We've kept in touch since I graduated.  I was very happy to see that he is still involved with the students at IUPUI!  I also got to meet Dr.Christina Mushi-Brunt who heads the Diversity Committee at IUPUI.
As an undergrad at the University of Michigan – Ann Arbor, I was very involved in the Asian American and Filipino American Student organizations.  Growing up I always felt like an outsider, but in college I felt like I finally fit in somewhere!   When I started my recovery from brain surgery, those same feelings of isolation resurfaced.  I didn't technically have "cancer", so technically I wasn't a "cancer survivor."  I never quite fit in, but this time around I would not be passive and stay quiet.  I couldn't go anywhere without someone coming to pick me up!  I became the awkward junior high kid who would entertain himself.  I figured out that I could connect with people similar to me online! I tried to get involved with cancer organizations, but still felt like an outsider looking in because I was "not technically a cancer survivor."  Many organizations welcomed me with open arms, but I still felt different because my impairments made me stick out  I've learned to embrace my differences by taking ownership of of them.  I'm not the guy in the mobility scooter.  I'm the owner of the "mAss Kicker Mobile."  Fortunately, over the years, I have been able to find brain tumor survivors similar to me!  I have also found survivors that felt the same way about living a PROACTIVE life post tumor/cancer treatment fighting these diseases.  We've created a "small town" community of post treatment thrivers.  This attitude has translated well into my professional pursuits.  I've been doing a lot of speaking at health profession schools and hospitals sharing my experiences.  Internationally, MKF is planning on taking survivors out to educate healthcare professionals and patients about life after a devastating tumor/cancer diagnosis.  We have some pretty cool stuff in the works!  STAY TUNED!