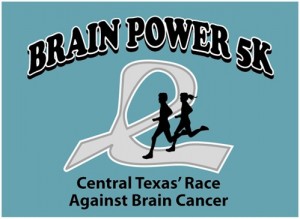 Last weekend I had the opportunity to go to Austin, Texas to check out the Brain Power 5K race/walk created by Kelly Bollinger.  It was great because I got to reconnect with my friend, "Hawktober for Brain Tumor Awareness" founder, and fellow brain tumor survivor Matt Cotcher I was also excited to reconnect with my other friend, Runi Limary.  Another brain tumor buddy, Iram J. Leon was kind enough to host me for the weekend.  J. is a very accomplished runner and has garnered national media attention.   He has won multiple races after brain surgery and qualified for the Boston Marathon earlier this year! He picked me up from the airport on Friday and we went directly to one of my favorite restaurants in Austin so I could have some brisket tacos.  I was first introduced to brisket by a friend in San Jose, CA years ago.  When I learned about the lengthy preparation of brisket, I became a big fan of Texas BBQ!  They take their grilling very seriously in Texas!  After college, I proudly held the tittle of "Grill Master" after years of "apprenticeship" watching my dad and my housemates in college!  I was told that I have to check out more Texas BBQ places the next time to get an idea of the different types of BBQ! Later that evening our friend Chris invited us to an acrobatic-equestrian-Cirque du Soleil-type show, Gladius.  Physical displays of skill always impress me!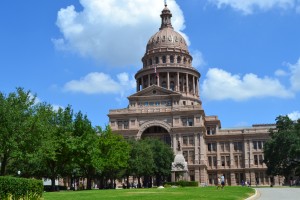 The next day J took me to an Ultimate Frisbee Tournament. I was surprised that teams from all over Texas came to this tournament!  On the way back, we did a "drive by" of the University of Texas Campus in Austin on a Football Game day!  I def want to check out an authentic Texas tailgate before a football game.  I've been to tailgates in Ann Arbor, Columbus, East Lansing, Chicago, and Pasadena.  I want to go one for a South Eastern Conference game and a Pac-12 game.  I always enjoy "geeking out", so J took me to the Texas State Capitol in Austin!  After the trip to the capital, we stopped by this really cool graffiti art wall where artists paint whatever they want on the walls!  Here are some pictures from the day!  Instead of lunch, we decided to get some ice cream, so we went to another Austin staple,  Amy's Ice Cream.   For dinner, we met up with Chris to catch up and watch a little football.  Later that evening, J went out while I stayed in to watch the Michigan-Notre Dame football game.   I am addicted to Michigan Football.  My general mood in the fall is sadly dependent on the outcome of the Michigan football games.  The past few years I have been pretty grumpy!  I'm learning to let go!  Sadly, it was an early night for me because Michigan got demolished, which in hindsight was probably a good thing since we had to get up early for the Brain Power 5K.
Kelly and Runi have done a great job organizing the Brain Power 5K.  I was very impressed with the turnout and growth of the event!  In a short time it has grown from 300 participants to over 14 hundred!  It was great running into Matt at the start of the race!  When I first found out that he writes about sports, I was intrigued.. We got along well from the very beginning.  The mAss Kickers Foundation Support Campaign, Rock Da Hawk is very closely tied to the "Hawktober for Brain Tumor Awareness" Campaign.   Matt has taken the mohawk campaign and run with it!  I support "Hawktober " 100% because mohawks are hard to ignore, and ANYONE can participate in the campaign! Anyways, I had to explore the Brain Power 5K venue because I was amazed that the event was actually created by survivors and run by survivors!  You don't see that too often!  Here are pictures from the Brain Power 5K event!   J organized one of the larger teams and had the top 3 male overall finishers and the top 3 overall female finishers!   I was honored to be a part of "Team Scarecrow" so I created the video above!  After the race, we went out to eat at another Austin restaurant that was kind of like a Denny's.  An omelet and pancakes for dinner, is always filling!  The people in Texas are so hospitable!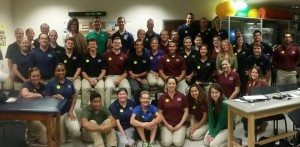 The next day, my friend Gayle picked me up from Austin, and took me to Texas State San Marcos to lecture to Physical Therapy Students about my experiences as a young healthcare professional turned brain tumor patient!  I always enjoy lecturing to students because they always keep me on my toes and ask some of the more interesting questions.  I did not realize how far San Marcos was from Austin.  Gayle had to pick up her kids from school so I had to find a ride to Austin.  The last time I spoke at Texas State, another one of my friends drove me there, and back.  I thought that I could simply take a Uber car from the school back to Austin.   I was wrong.  There were no Uber drivers in San Marcos plus I found out that a taxi would be ~$100 to take back to Austin.  I was so lucky that Dr. McDowell was able to give me a ride back to Austin on her way home from San Marcos!   Dr. McDowell dropped me off at a restaurant and I met up with Gayle again and another survivor friend, Deb.  I always enjoy meeting other survivors, even survivors of different types of tumors/cancer. There is always an unspoken bond that "connects" us.  I always have a great time in Austin and look forward to returning.
I have some more cool stuff in the works. Â I just confirmed that I'm speaking at a military healthcare conference in Seoul, S. Korea in November. Â They want me to:
share my story as a healthcare professional turned oncology patient
present the benefits of physical activity/exercise in a post oncology treatment population.
I have to alter my presentations for a military and Korean audience.  This will be exciting!  I'm thinking about going to S. Korea early to experience Halloween in another country… I've had some pretty exciting Halloweens in the past, but that is a story for another time… Seoul here I come!  I wonder how people will respond to the "mAss Kicker Mobile" there…  it was a different in experience in Japan and the Philippines last time.