The Beginning of Summer "Vacation?"
So much has happened since my last post! As a child, the month of June not only meant the end of school year, but also the beginning of summer and a bunch of fun activities.  Earlier this month, I went back to Michigan for one of my best friend's 40th birthday!  We are all evolving!  A few years ago, everyone was getting married and buying houses.  Now, kids are started to pop up and priorities are changing.  It is so crazy that we are now older than our parents were when they immigrated to the United States to start a new life!  It was so cool going back home to Michigan and not having to worry about an event or a speaking engagement. I got to see many of my friends from undergrad at the birthday party.  I also got together with some of my friends from grad school for a barbecue!   I also got to meet up with some of my mentors from grad school!  It was so great catching up with everyone and taking a short break from everything..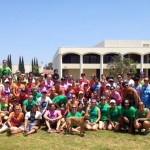 I returned to San Diego for our Second Kickball Tournament. Â  This year teams included: Local PT/PTA programs, a team of survivors and their loved ones, a team of PTs, and the defending champs! Â It is really turning into a fun event! Â This year, we let the family members of survivors play so a bunch of little kids made some great plays playing with their parents! Â Pretty cool seeing families play together! Â Things went very well. Â We see a lot of potential for expansion! Â It was great seeing future healthcare professional interacting with the families affected by tumors/cancer. Â We are making plans to recreate this event with other PT/PTA programs in different states!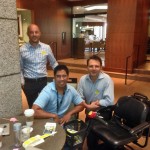 The week after the kickball tournament, I had the opportunity meet with the Founders of the Belgium Based website, Esperity.  They are early in their development, but they share with MKF a strong interest in clinical trial recruitment.  They realize that common cancers like breast or prostate cancer get the most research funding and get the most subjects recruited for research studies because of their prevalence.  If we can combine resources globally on clinical research studies for the less prevalent tumor/cancer types, this could address the need for the recruitment of rare tumor/cancer subjects.  EVERYONE BENEFITS!  Instead of looking in one region, lets search the world for eligible research subjects.  It makes sense to me.  Collaboration is key, but people need to understand the benefits of participating in clinical research.  It was great to hear their vision and add my input!  I'm still not sure how an international "IRB" would manage this, but it is an interesting concept.  We'll definitely have to keep an eye out of them.
After our meeting, I wanted to relax, so I stopped by Lucha Libre Taco Shop.  As a kid, I was really into pro-wrestling.  I am proud to say that I was going crazy at Wrestlemania 3 at the Pontiac Silverdome when Hulk Hogan slammed Andre the Giant.  When I heard about a luchador (masked pro-wrestlers) themed taco shop in San Diego I had to check it out!  Nacho Libre was one of the silliest movies I had ever seen, but it awakened my inner-child! The 11 year-old version of myself would not have been disappointed by Lucha Libre Taco Shop.  The place was covered with luchador memoriabilia and bright colors that screamed "NOTICE ME!" Of course, the food was incredible!  Their California Burrito was rated as one the top 10 in San Diego by San Diego Surfers.  The place literally had a line out the door!  The menu did not disappoint!  If I like something, I tend to order it again.  The California Burrito has been my "Go-To" order for years.  I'm just now starting to explore San Diego Mexican food outside of my first love, the California Burrito.  I will definitely have to return and try something different…
Anyways, still have a lot on my plate… gearing up for our paintball benefit in MI in August… stay tuned!