Another Adventure… My "Paperback" Journey…
Earlier this week,  I was supposed to go up to Los Angeles for a meeting, but my train got cancelled.  It left me with a bunch of time to kill.  Exploring new areas has become my mission the past few years, but from the perspective of someone with a physical disability.  I decided to check out the San Diego Central Liberty.  Such a cool building!  I had not gone to a public library by myself since I was in high school.  In college going to the library was social time at the UgLi (The Shapiro Undergraduate Library).  I'd spend more time hanging out with my friends then I would actually studying at the library.  I couldn't sit still in there because I have always had a very short attention span and I was always distracted by all the pretty girls… HAHAHA!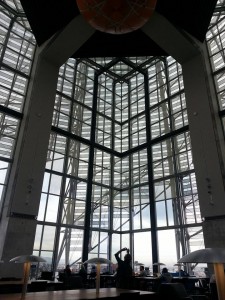 I figured out in grad school that I  need to be alone to get things done because the temptation to do something  more fun was ALWAYS very high!  I've forgotten that the library has so many resources! I vaguely remember going to the library as a kid and reading Curious George, Where the Wild Things Are, and Pockets For Corduroy.  I also vaguely remember eating toasted jelly sandwiches and Oreo cookies.  I recall my parents telling me "if you are loud you'll get in trouble!"  I was always a quiet kid after that!  Most people go to Barnes and Noble to find books or other resources.   I think it is largely due to the fact that it is open later which makes stores and coffee houses more conducive to people looking for a book after work or school.   Technology is making information more accessible, so  I'm very curious to see how digital books/media will affect libraries.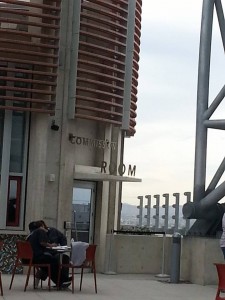 Anyways, at the library, you can borrow CDs, movies, books, ebooks, and even e-readers (with a deposit)!  Pretty cool!  You don't really appreciate things until the trivial things become difficult to attain. This trip to the library was an unexpected surprise years in the making.  I didn't realize how much I enjoyed that place until I was immersed in it.  I spent the whole morning exploring a exciting new place!  I even ran into a buddy of mine with his kid!  I found out from him that they also have free classes there!  There are so many interesting resources there!  A genealogy section, a rare books section, San Diego History section, a computer lab, a whole section dedicated to baseball, a roof top view of downtown San Diego… so much going on there!  I'll definitely be going back there!  The last stop on the trolley goes to the library…very accessible!  Now, I just have to find my library card…
Leave a Reply
You must be logged in to post a comment.