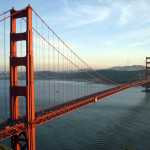 Last week, I went up to San Francisco because flights were so cheap!  $75 each way! I had a very packed trip!  10 years ago was actually the last time I got drunk, but I like this song about San Francisco!  I spent the summer in San Francisco Bay area before PT school.  My younger cousin, Mike – who I haven't seen in over 10 years, picked me up from the airport.  Then we went out to dinner and caught up on everything.  It was cool catching up with him!  He was one of the "little" cousins when we were growing up.  He's an attorney now.  I was very impressed with all he's been able to accomplish!  After a late dinner, he dropped me off at my friend, Natalie's place in SF.  To make things more exciting, her place was located on a big hill, with a big flight of stairs to her apartment!  On top of that, the bathroom had an old school clawfoot tub giving me another challenge!  Good thing I never shy away from challenges… hee hee hee!  I crashed on her couch and took an Uber car to Fisherman's Wharf for a lunch meeting the next morning!  I got there early and explored Fisherman's Wharf on my own.  The last time I was there was ~15 years ago!  I remembered going to a magic shop and trying to learn how to do magic tricks so I could impress my friends with my magic skillz.  The problem is I'm not very good at deception.  I suck at doing magic, but it is pretty funny to see how pathetic I am! I also stopped by a puppet shop. It conjured up memories of constantly messing with people with my koala puppet!  I'm sure it was annoying, but I cracked myself up… For lunch, I met up with Samantha from the SAMFund and Erard/Mitch from the Belgian organization, Esperity. We had lunch at Fog Harbor Fish House and had a great view of the Golden Gate Bridge and Alcatraz.  We were pleasantly surprised to be able to watch the Blue Angels practice their show for Fleet Week.  After lunch we walked around Pier 39 and I got to hangout with the Esperity guys.  We def eat too much whenever we get together…  I took another Uber car to back to Natalie's apartment and took my "siesta" before dinner at Stem.  We met up with a bunch of SF survivors and the Esperity San Francisco team and ate yet again!
On Friday, I was invited by Esperity to attend a meeting at Impact Hub, a co-working space filled with entrepreneurs.   It was very interesting to see how they run their meetings.  I was planning on visiting another PhD program at UCSF, but I completely forgot that it was a holiday weekend.  Most of the faculty I needed to meet with were gone.  I had lunch with the Esperity San Francisco Team and caught a movie at the Metreon in downtown SF.   I went there often when I spent a summer in SF before PT school!  I saw The Martian, then an old friend from undergrad picked me up. We picked up dinner and took it back to his place in San Mateo to see his family.  I went to college with Roger and his wife, Suki, so it was great to catch up with them and meet their kids!  Later that evening, when the kids went to bed some other old friends from college met up with us.  They act exactly the same, but a little older and with kids!  The evening was filled with lots of laughing/reminiscing about all the stupid stuff we used to do in college!
The following morning, we had breakfast and more old friends from college came over to watch the Michigan-Northwestern football game. It was so cool seeing my college friends as parents.  It actually was the first time I met their kids!  Too funny!  I always like holding conversations with the kids because I could definitely see the personality traits/influence of their parents in them! My flight to San Diego was delayed because President Obama was in SF, so I was able to hangout a little bit longer.  I was exhausted because I delayed my daily "siesta"!  I like getting to the airport early in case any problems arise… I never know how things will go with passing security and gate checking the mAss Kicker Mobile!  I grabbed a bite to eat at the airport then took my siesta.  It was a busy trip, but great to meet up with family, old friends, and oncology advocates.
This week is the Celebration of Life in San Diego.  I'll be doing a toast this year to honor the people that stood by us during and after treatment!  Will be a great night!  I want to recognize all the people who have been there for me since the beginning and honor them with a toast!  Please try to stop by!  But if you can't make it, please consider a tax deductible online donation!  Click here to donate online to support mAss Kickers Foundation activities next year!  More international travel is in the works, but still hammering out the details!
I'VE GOT EVEN MORE COOL STUFF IN THE WORKS! hee hee hee… Make a donation and I'll fill ya in!  I'm realizing that mAss Kickers Foundation is definitely going to need more official help next year!