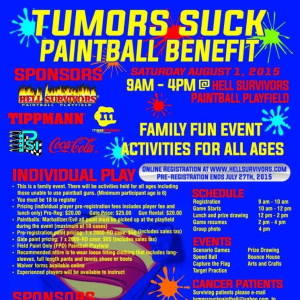 The past 2 weeks have been packed!  I went home for the 2015 TUMORS SUCK! Paintball Benefit in Pinckney, MI.  There were more kids this year and all the paintball teams do a great job making sure everyone has a good time. Under the leadership of Angel Bureau, Andy Wlodyga, and the "Mitten Men" the event has grown even bigger.  It is always great to see people unite for a great cause!  For parents, it's a unique way to PLAY with you kids/family.  The speed of the paintballs was turned down and the age limit was dropped to 6 years old to make the event more friendly to the "newbies" and more become more family oriented!  It was great to see quite a few parents playing with their kids this year!  It is definitely a unique way to do a family fun event!  This year there were 2 paintball "tanks"  where survivors could go out onto the field and shoot their paintball guns at people without return fire…  "FEAR THE TANK".  It was great seeing families having fun doing something unique together! I give props to the all the moms and dads that played paintball with their kids!  HAHAHA!  Parents are always cleaning up after their kids.  It's not often that parents get to have fun getting messy WITH their kids!  It definitely was cool seeing the kids having fun for a good cause!  We are creating a new generation of mAss Kickers who enjoy supporting our unique activities.  The Paintball Benefit gets bigger and more fun every year!  We always look forward to welcoming new people to the event!  Everyone does 5Ks or Event Galas to promote their causes.  While we think that it is great, we wanted to do something unique and fun for everyone.  Andy is one of my closest friends from growing up and when he found out that I was battling a brain tumor, he wanted to create a unique event to support the young organization I had created, mAss Kickers Foundation.  He brought in his significant other, Angel Bureau to organize the event logistics.  They do a great job every year recruiting players, volunteers, securing sponsors, and raising funds for mAss Kickers Foundation!  We even created a website specifically for the the event in the hopes of expanding the event to other venues in different states.  We are very excited about the potential for growth!  IT IS A VERY UNIQUE AND FUN EVENT FOR EVERYONE!
After the paintball event, I traveled to Dallas, TX to participate in the National Association of Asian American Professionals.  It was only the second time I've attended one of their events.  In college, I was very involved with the Filipino-American and Asian American communities.  I'm looking forward to getting re-involved to address oncology disparities in the Filipino-American and Asian American populations.  Stay tuned for Part 2 of this post from Dallas!
Leave a Reply
You must be logged in to post a comment.