The COVID-19 pandemic has hit me pretty hard. So much has happened in the past year. I made the difficult decision to dissolve the nonprofit, mAss Kickers Foundation because of all the travel restrictions. It just did not make sense to take immunocompromised oncology thrivers on international trips during the global pandemic. I also decided to move back to Michigan in December 2020 to be closer to family. I was living alone in Houston and both my parents are getting older. The COVID-19 situation had me worried about all my family at risk! At first I felt defeated returning to Michigan with nothing, but then I realized that there are still A LOT of opportunities back home in Ann Arbor! I have been getting re-involved in the physical therapy profession through both the American Physical Therapy Association (APTA) Oncology Section, Balance and Falls Special Interest Group AND ALSO the World Physiotherapy: IPT-HOPE (International Physiotherapists for HIV/AIDS, Oncology, and Palliative care Empowerment). I have been able to apply my experiences in the nonprofit world to a new position as "Director of Communications and Membership" for the APTA ONCOLOGY, Balance and Falls SIG and also the role of "website manager" for IPT-HOPE. I'm most excited to get re-involved in the physical therapy profession. Returning to the world of Physical Medicine and Rehabilitation with the perspective of a brain tumor survivor with severe balance and coordination impairments will add unique insight to the activities and goals of the APTA Oncology B&F SIG. Falls in the survivor population is typically overlooked in liu of more "pressing" oncology/medical issues. However, falls can be devastating to oncology patients with unexpected emergency room visits, fractures, or even debilitating hospital admissions! As health care professionals we need to prevent falls and educate oncology patients for their risk of falling.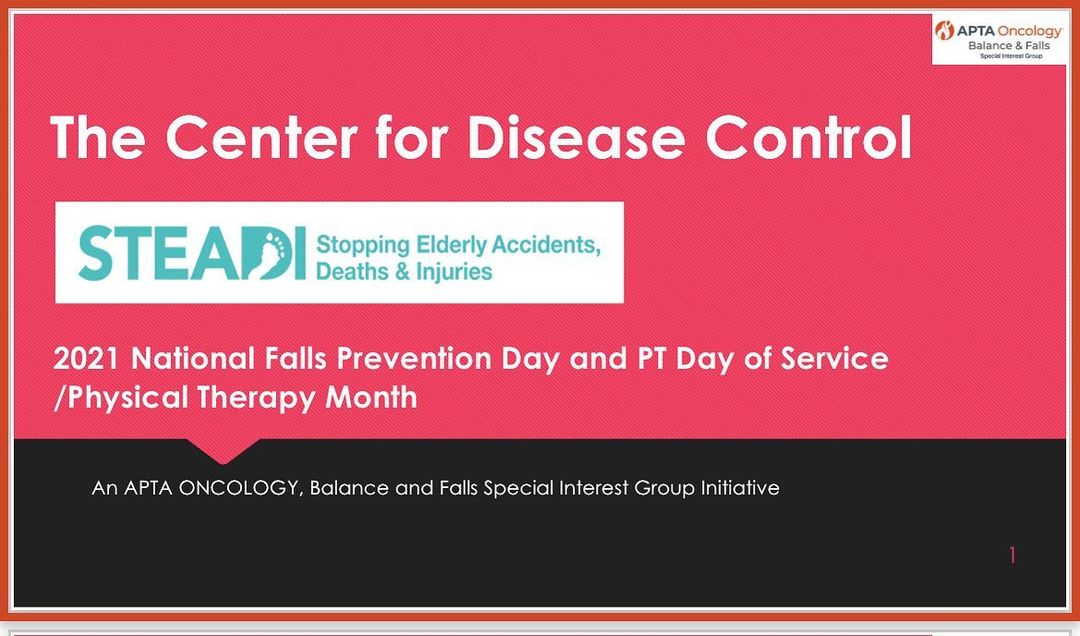 The APTA ONCOLOGY, Balance and Falls SIG has initiated a new project to determine the fall risk in oncology patients. There are few peer-reviewed published research/data on falls in the oncology population. The US Center for Disease Control and Prevention's STEADI program (Stopping Elderly Accidents, Deaths, and Injuries) was selected from a list of Fall assessment questionnaires because it was the most reviewed, evidence-based screening tool we found. This first year, we are attempting to do fall screenings using the STEADI at Cancer Centers across the United States to screen for fall risk in the oncology population. We are very excited to initiate a national oncology patient fall screening campaign this year in collaboration with oncology physical therapists across the US. We are planning on doing this around PT Day of Service during Physical Therapy Month in October at Cancer Centers across the US.
The goal of the project is to not only screen oncology patients for their fall risk, but to also highlight the importance of physical therapy in the cancer survivorship continuum. The risk of survivors falling will most likely increase due to advancements in oncologic treatments and an aging cancer population (more survivors in both cases).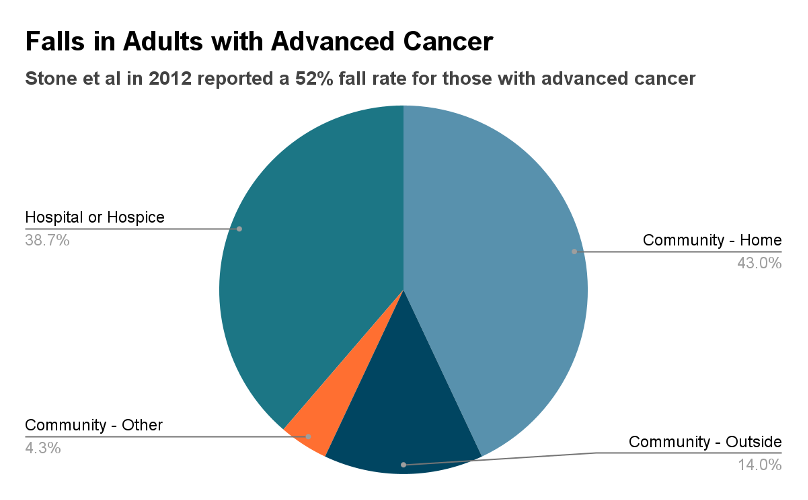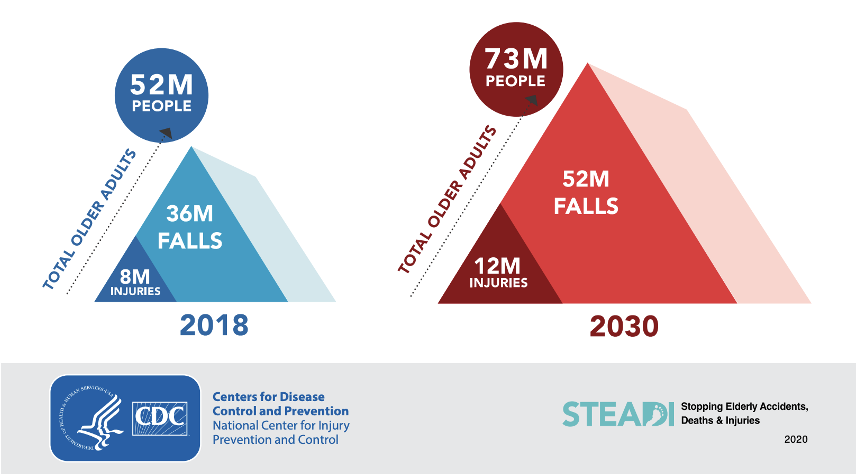 Physical Therapists are the most qualified healthcare professionals to address falls in the oncology population. We have more exciting physical therapy related projects in the works! Please email me at ericgalvez714@gmail.com if you would like to get involved in the 2021 Fall screening on PT Day of Service.